By Shirley Hickman
For many Inner City Outings participants, an outing to the San Gabriel Mountains in the winter provides them their first contact with snow.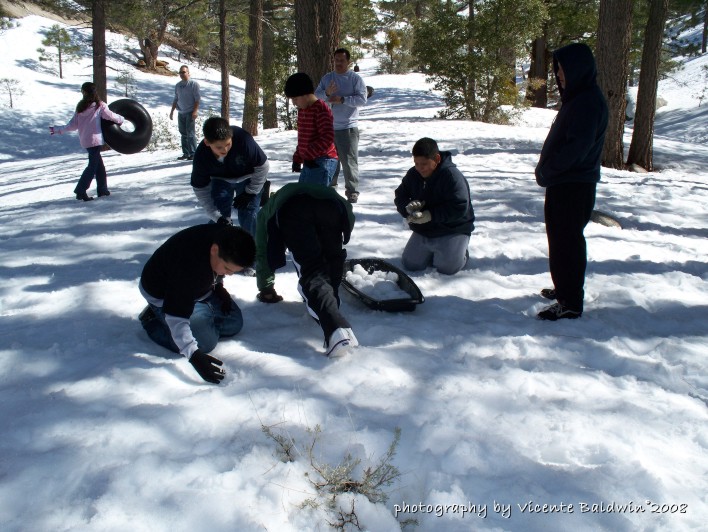 (Some Southern California teachers have never experienced snow either.) Snow outings require a great deal of preparation and care because of equipment and clothing needs and potential safety hazards. However, they are lots of fun!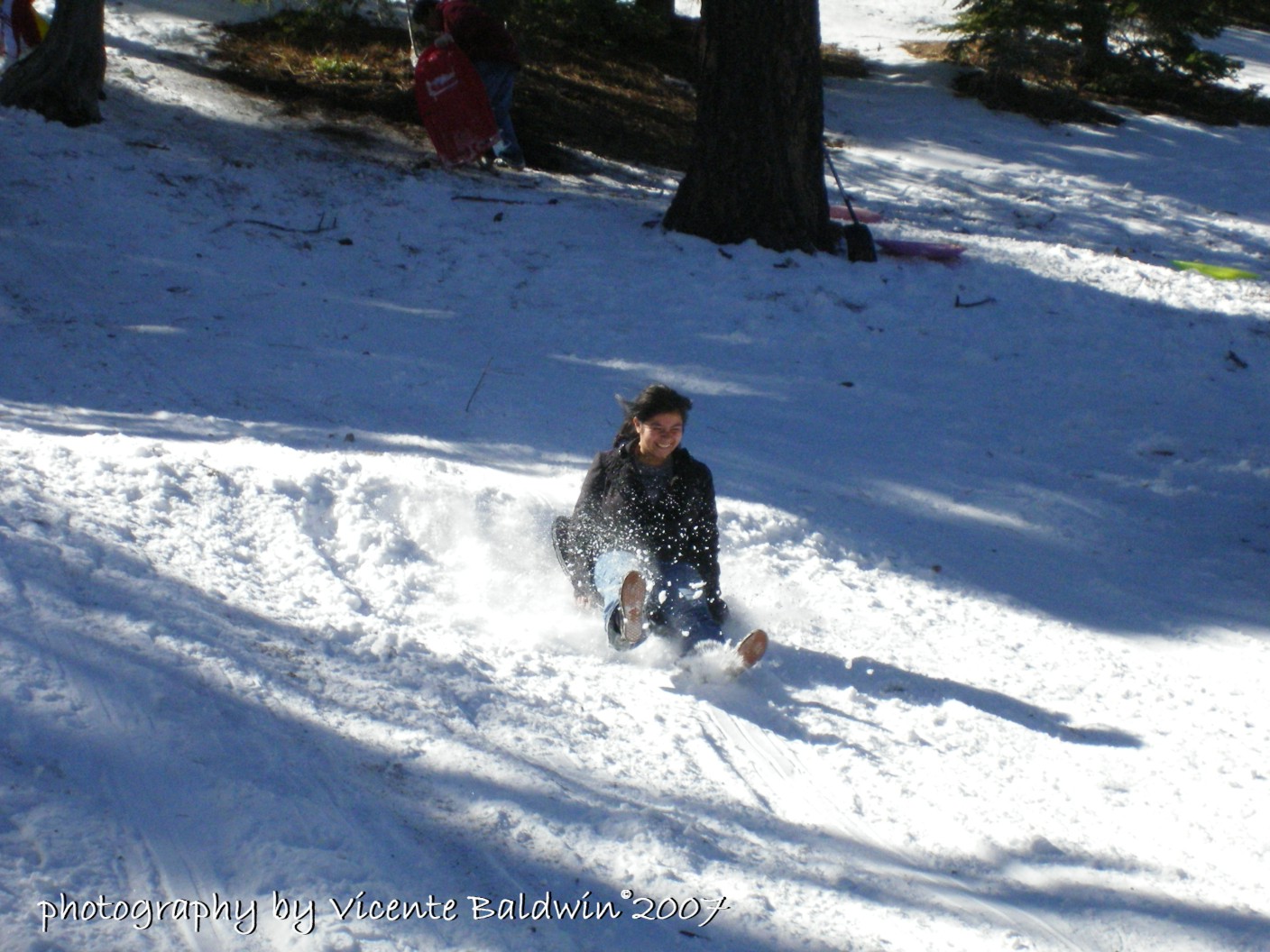 1. Prepare for a snow outing:
Be sure the participating teachers emphasize the necessity for warm clothing, preferably layered, and for the youngsters to bring along extra socks and shoes if they are able.
Bring plastic grocery bags to be used as waterproofing between socks and shoes.
Contact Elizabeth Neat to arrange to pick up snow equipment:

Snow-play plastic saucers and banana boats for sliding down hills
Snow shovels for creating snow barriers to hazards
Mittens and gloves
Coleman stoves, bottles of propane, pots, and ladles for serving hot chocolate (optional)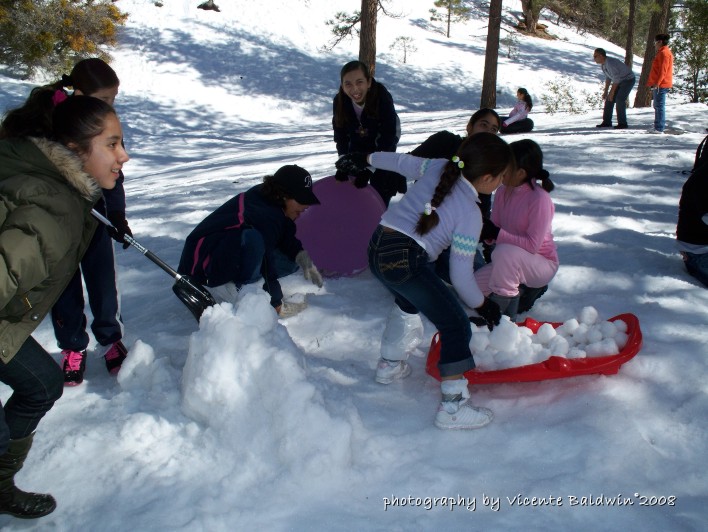 Bring water and cups if you are planning on serving hot chocolate.
Bring a day use pass (available for purchase at ranger stations and sporting goods stores) for each automobile. Buses do not require passes.
Ride the bus and give instructions before the youngsters get off the bus. An alternative is to meet the bus at the school and direct the bus to follow you.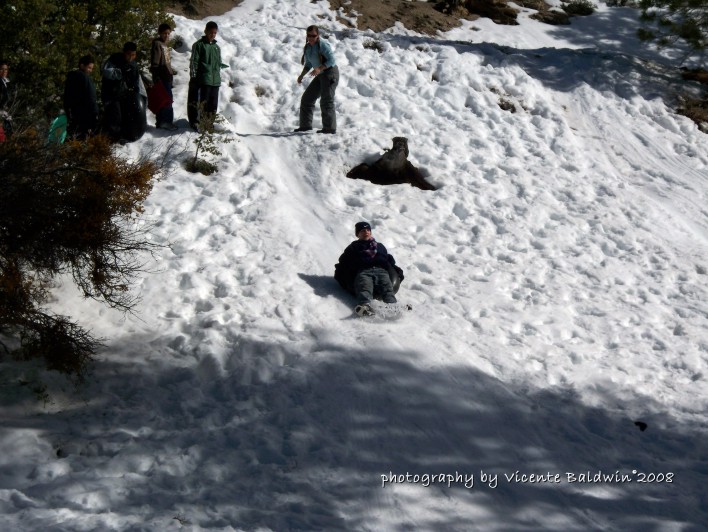 Scout the area, if at all possible, to ascertain the conditions just before the trip. A warm rain can wipe out the great snow that was there the previous weekend.
Check the weather. Reports saying, "Snow at 5,000 feet" are good news.
On the trip up Angeles Crest Highway , check snow conditions at the Clear Creek Information Station at the intersection of Angeles Crest Highway and Angeles Forest Highway. Try phoning them at (626) 821-6764 but the phone is often tied up. This is also a good restroom stop.
2. Safety precautions are imperative:
Organize a snow trip for experienced participants and with teachers in whom you have confidence.
Limit the group size to no more than 30 youngsters.
Require the participation of at least five responsible adults to monitor the youngsters' sledding.
Use snow shovels to build barricades or snow ramps to redirect sleds away from potential hazards such as picnic tables and holes.
Station responsible adults near hazards such as picnic tables, trees, or drops to stop children who may swerve off the designated route.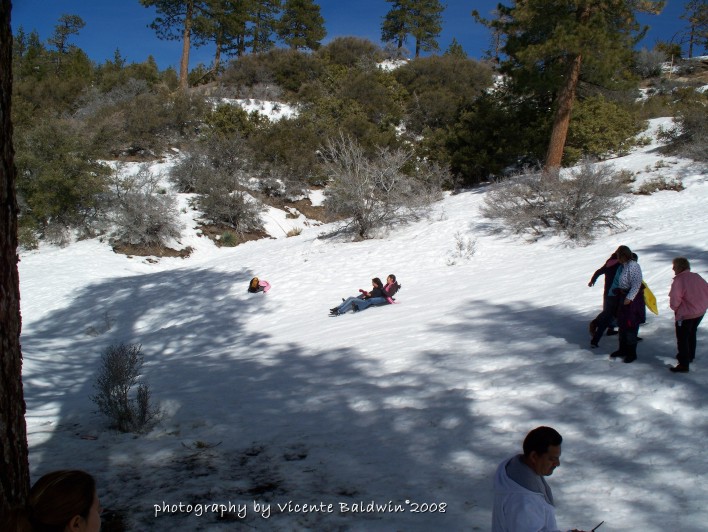 Establish definite up and down routes for youngsters that avoid crossing the hill(s) where others are sliding down.
Be sure a responsible adult is always present while youngsters are sliding downhill.
Station an adult at the bottom of each hill to hand out saucers and direct traffic.
Station another adult at the top of each hill to help the young people climb on the saucers, make sure that they do not lose the saucer down the hill, and ensure that the previous sledder is well out of the way before the next one starts.
3. Locations for snow outings:
Eagle's Roost
From La Canada Flintridge drive the Angeles Crest Highway 39 miles. The milepost will say 61.60.
Eagle's Roost is an excellent location for snow play as it is sufficiently off the road and is especially likely to have plentiful snow. There is good off-site parking at Eagle's Roost and outdoor toilets.
The road may be closed just before Eagle's Roost. If it is, it is an easy quarter mile walk to the picnic area.
Chilao
From La Canada Flintridge drive the Angeles Crest Highway 27 miles. The milepost will say 49.70.
Chilao is an excellent location for snow play when there is snow at its elevation. There are several slopes of different grades. There is good off-site parking at Chilao and outdoor toilets.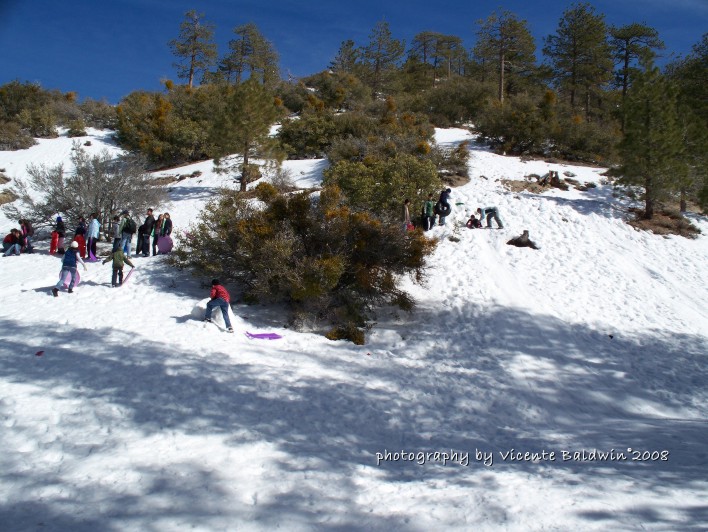 The 6000 mile elevation mark
This may be your only option if the snow level is not as low as 5000 feet, but the road is closed before Eagle's Roost.
For safer sledding, climb over and down (to the right of the toilet). Be assertive. Walk together, and insist that no one starts sledding until you give the "Go ahead." For greater ease, make and serve the hot chocolate and eat lunch up by the bus, rather than carrying everything to the sledding site.
[Eagles Roost snow trip. Photo credit: Vicente Baldwin]