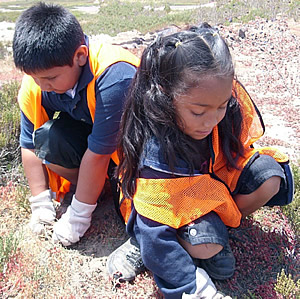 The Bolsa Chica Land Trust is one of several different non-profit groups working at Bolsa Chica in Huntington Beach. Their website is
bolsachicalandtrust.org
The Bolsa Chica Stewards are The Restoration Team of the Bolsa Chica Land Trust. The Stewards welcome ICO groups to their regular work days on the first Sunday and third Saturday of each month, 9:00 am to 12:00 noon, and will occasionally schedule a special day for older, motivated, hard-working students.
When filling out a trip form to Bolsa Chica, make sure to indicate the meeting place. The bus can drop off students at Warner Avenue parking lot of at Pacific Coast Highway parking lot.
Contact information:
Bolsa Chica Land Trust
5200 Warner Avenue #108, Huntington Beach, California 92649
(714) 846-1001
Office hours 10:00 am – 3:00 pm, Monday – Friday
e-mail: info@bclandtrust.org
Working at Bolsa Chica in the morning and going across to the beach for lunch and recreation is a good combination. Reservations and a lifeguard are required for the Bolsa Chica State Beach.
Contact information to arrange for a lifeguard:
Monika Lopez, Special Events Coordinator
Bolsa Chica/Huntington State Beaches
21601 Pacific Coast Hwy
Huntington Beach, CA 92646
Office: (714) 377-9422
Fax: (714) 846-1327 or (714) 377-8681
Contact information to obtain a School Group Request Form:
Melanie Launius
Email: Melanie.Launius@parks.ca.gov
Phone: (714) 377-9073