Temescal Canyon Alternate Hike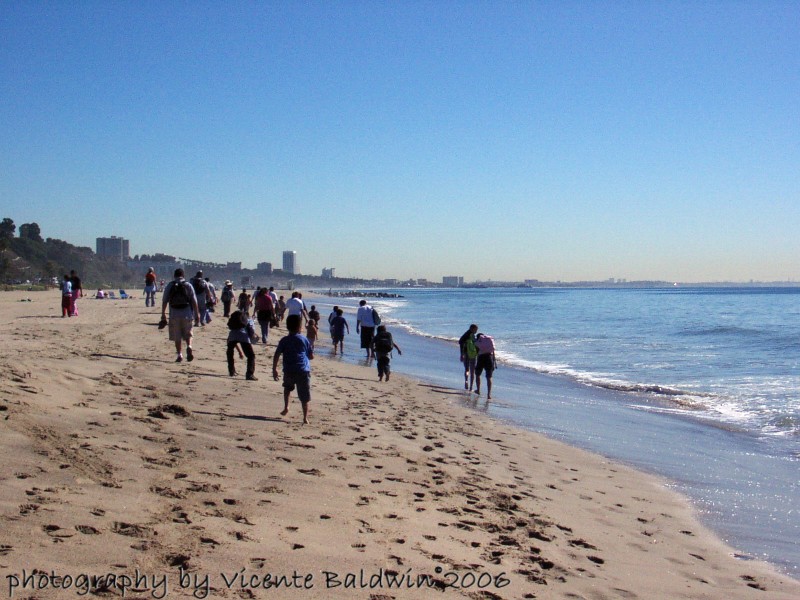 By Shirley Hickman
If you know in advance there will be a fire hazard alert on the date of an outing, make arrangements with the bus company to transport hike participants to Temescal Canyon Park (assuming that is not your original destination). Phone Robin Smith, the Mountain Education bus coordinator, at (310) 858-7272 X117 or e-mail her at robin.smith@mrca.ca.gov to change the bus destination to Temescal Canyon Park.
If you don't know there is a fire hazard alert until you reach the trailhead, this alternative is practical for ICO trips scheduled for Will Rogers State Park, Temescal Canyon Park, and even Topanga State Park.
Direct the bus driver to drive to the intersection of Temescal Canyon Rd. and Pacific Coast Highway and park near Will Rogers State Beach. (The bus will be parked within Temescal Canyon Park boundaries.)
Walk southeast along the beach towards Santa Monica.- Note the landslide on your left and discuss causes and ramifications.- Look for dolphins, gulls, sandpipers and other seashore life.
Where Chautauqua Blvd. and Channel Rd. converge at Pacific Coast Highway, there are public toilets near a snack vendor.
Go through the tunnel to cross the highway.
Walk northeast on West Channel Rd. It will become Entrada Dr.
Across from Canyon Elementary School at 421 Entrada Dr., walk up the extensive stairway to Adelaide Dr. See the map below for stairway locations.
Turn, following all the stair climbers, walk along Adelaide Dr. about one-half block to the other stairway, and walk down.
Return to the beach for lunch.
Santa Monica Canyon Staircases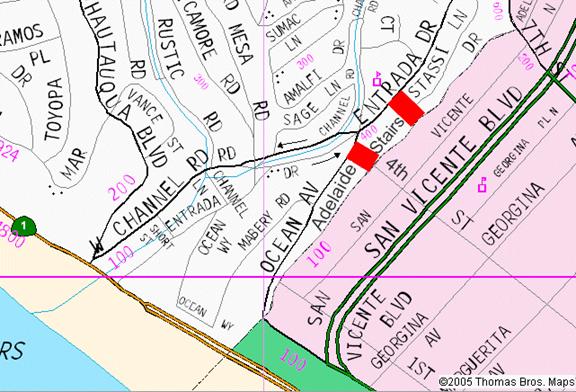 At the intersection of Ocean Avenue and Entrada Dr. near the stop sign at the foot of Ocean Ave. House numbers 350-380. Comes out at 4th Street and Adelaide Dr.>
At the intersection of Amalfi Dr. and Entrada Dr. Comes out at 530 or 540 Adelaide Dr.