ICO's Mission Statement
The Los Angeles Inspiring Connections Outdoors (Angeles Chapter) serves as a bridge that enables underserved youth, disabled individuals, and others to visit and develop an appreciation for our natural environment. We work with schools, community groups, and other agencies to create safe and enjoyable outdoor experiences for persons who might not otherwise have them. ICO outings promote individual growth through group activities and environmental and outdoor skills education.
What We Do
Part of a National Organization.  Angeles ICO is one of 50 regional organizations with the Sierra Club ICO organization
Volunteer Training: Trip Leaders receive safety, first aid, and Sierra Club certified outings leader training and must pass a background check
Introduction to nature. Most of the children on ICO outings have never been to local mountains. Many who go on beach trips have never seen the ocean before. They are thrilled to see deer, coyotes, lizards, turtles, and birds. They learn how Native Americans survived on indigenous flora and fauna.
Education about wilderness environments. ICO leaders coordinate with teachers so that during hikes we can reinforce what students have been studying. We observe and talk about flora, fauna, habitats, erosion, the interconnections between species, and man's impact on the environment.
Imagination and creativity. By walking along narrow trails in an entirely unfamiliar environment, children see the world in new ways. After hikes teachers encourage students to write and draw about their experiences. Many letters and offbeat haikus have blossomed from the trips.
Health. Children and parents are physically challenged by strenuous uphill hikes and increase their appreciation for a healthy life style.
Self-esteem. Crossing streams, hopping boulder to boulder, completing long walks, the young people accomplish things they never thought they could.
Fun! ICO leaders try to give the young people time to just have fun, explore, and soak in nature, such as playing around at the rock pool at Malibu Creek State Park, wading in creeks in the San Gabriels, or splashing in the ocean.
Monthly Meetings
The ICO Committee meets 11 times a year. All volunteers, school and agency contacts, and any other interested parties are invited to attend.
The meetings begin at 7:30pm (7:05pm for teachers requesting trips and prospective volunteers and leaders) and are held on the third Monday of every month (except Jan. and Feb.). We meet at the Sierra Club Angeles Chapter headquarters in the One Park Plaza building, 3250 Wilshire Blvd. #1106 (conference room), located on the southeast corner of Wilshire Blvd. and New Hampshire Ave. Parking is a flat rate of $5 on evenings and weekends with Sierra Club validation (enter from New Hampshire); however, there is free street parking on Wilshire Blvd. beginning at 7:00pm.
Committee Officers
Ann Majchrzak, Chair
Ann Salvador, Vice Chair
TBD, Secretary
Catherine Ronan, Treasurer
Shih Chen, Co-Treasurer
Catherine Ronan, Fundraising Committee Chair
Dan Butler, Bus Coordinator
Ellen Bradley, Certification Chair
Schuyler Senft-Grupp, Volunteers Coordinator
Les Wilson, LEADERS Database Coordinator
Afrodita Fuentes, Facebook Administrator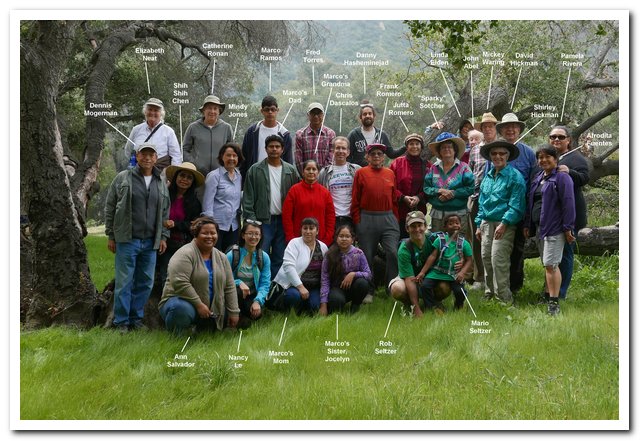 Volunteers and participants of our program. Photo by Shirley Hickman
[Malibu Creek State Park. Photo credit: Vicente Baldwin]