Home
Welcome to
ANGELES CHAPTER
INSPIRING CONNECTIONS OUTDOORS
(formerly known as INNER CITY OUTINGS)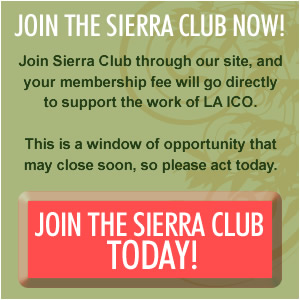 Sierra Club Inspiring Connections Outdoors (formerly known as Inner City Outings) is a community outreach program that provides opportunities for urban youth and adults to explore, enjoy and protect the natural world.
• In 2013, LA ICO led 139 outings for 4,949 children and 862 parents and teachers.
• LA ICO works with 60 different agencies, primarily Title I schools.
• LA ICO is an all-volunteer organization and is responsible for all of its own fundraising.
• LA ICO is one of 49 Inspiring Connections Outdoors groups nationwide that make up the Sierra Club's national outreach program.
• LA ICO's volunteer trip leaders receive safety, First Aid, and Sierra Club certified Outings Leader training and must pass a background check.
• LA ICO received the 2009 Associated Administrators of Los Angeles (LAUSD) Community Award and the Angeles Chapter Sierra Club 2008 Certificate of Merit.
A big THANK YOU to the Mark Taper Foundation for a generous $15,000 donation to Angeles ICO! Read about their generosity here.