Home
Welcome to
ANGELES CHAPTER
INSPIRING CONNECTIONS OUTDOORS (ICO)
PLEASE COME TO OUR NEXT FUNDRAISER: SUNDAY JUNE 24 2018, Hermosa Community Center for the Second Annual Adventure Film Festival
Doors open at 5:30pm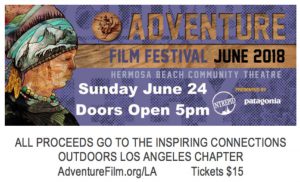 Thank you to our following sponsors for your generous donations and support for ICO!
Back to Nature Educational Event for all ICO volunteers, leaders, and teachers:
Sat Sept 8th, 2018. Kenneth Hahn Park
ICO is a community outreach program providing opportunities for urban youth and adults to explore, enjoy and protect the natural world.
• In 2017, LA ICO led 129 outings for 4,151 youth and 1,009 parents and teachers.
• LA ICO works with 49 different agencies, primarily Title I schools.
• 81% of all donations go to transportation; this is all volunteer.
• See updates on Facebook and instagram (angeles_ico)
• Please click here to download our brochure and share with others for volunteers, new agencies, and donations!
• See our Sierra Club Angeles ICO Video below, contributed by volunteer Grazia Caroselli, Evolve Productions.